Last time, during my school days or rather my teenage era, i love to frequent those cute gift & knick-knack shops such as Living Cabin. Do you familiar with those shops? Always wouldn't miss to buy some cute stuff such as notebooks, stationary, stickers, files or any stuff that are too cute to resist. But now i am slightly older (ceh slightly konon..prasan muda ler tewww). I am no longer buy those stuff simply because i don't have place to store them and also beause some stuff are not relevant for me thus it is not practical for me just buy them just because they are cute. In other words, i am now matured enough to use my money wisely (ehemm...ye ke?)
So back to the title of the story. Yesterday, i went to Daiso at The Curve. Everytime i go there sure macam-macam teringin nak beli. This RM5 Japan Shop really have lots of interesting stuff and most of them are sooo cute! I forgot to snap all those cute stuff i saw, kinda regreted because memang cute sangat, but i did not buy them because i sure won't use them. But i did snap some pictures of my buys. Nothing much but i am happy i got them. Here are the piccas. Sorry for the bad quality pics, i used my iPad to capture it..malas nak cari camera yang entah di mana :D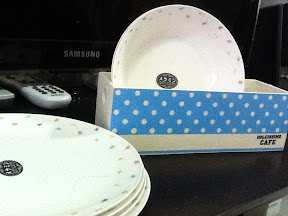 Melamine plates with cute tiny fruit prints. Current plates are oldies, been using them since my pre-married time. Time to change for a new one! And the blue polka dots box is for me to store and organize my sauce & jam bottles.
Cute strawberry plate. For my Dania. Too cute to resist! For her to use whenever she eats biscuits. Currently she using her brother's Ben10 plate. Now she got her own cute plate..yayyy!
Floral printed food cover or we Malay calls tudung saji. A mini one, umbrella like, very adorable. Bought this because everytime my mother at my house she complains that i don't have tudung saji tu cover the lauk-pauk. So mak, next time jangan komplen lagi ye...ini yang cute punya! Hahaha..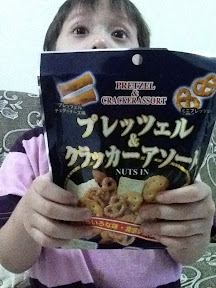 Temptation & curiosity got me this. Macam sedap jeee...so i bought one to taste. It is a mix of biscuits. Ada yang sedap ada yang tak. The pretzels one are dissappointing. The tasty ones are the seaweed biscuist. Semalam me & Dania dah makan sampai separuh!
K that's all. Next time pegi Daiso lagi i will share again. Everytime sure got some interesting & cute stuff!
- Posted using BlogPress from my iPad