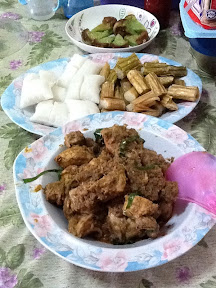 Today me & family just lepak at home. A nice weather to laze at home...sejuk dingin, tak berlengas dok rumah. Since we have no open house invitation today, i decided to cook rendang ayam. It is like a compulsory thing for me cook rendang ayam every raya. Eats with nasi himpit & kelupis imported from Sarawak. Kelupis is pulut inside daun palas, quite similar to ketupat palas only that it is long shape instead of triangle. So we had a feeling-feeling raya with just us. Good food on breezy cool Sunday with my family is always nice.
Later on, we will go to Pizza Hut for dinner because i was salivating on Chunky Loaded Pizza. Adam was excited about eating pizza since yesterday. Hope it is as delicious as it looks!
This is my Sunday story....how was yours? Hope you had a wonderful time as well!
- Posted using BlogPress from my iPad